This year is the 300th anniversary of the birth of Lancelot Brown, who went on to create some of the greatest landscaped gardens of England.  He designed some of my favourite gardens: Stowe, Charlecote and St. James' Park, to name but a few, and there are many, many more. A comprehensive list is available here.
The son of a yeoman farmer and a chambermaid, Brown worked as a gardener at the local big house on the Kirkharle estate in Northumberland before he went to Stowe and took charge of the fabulous gardens and architecture there.
His ancestry is not easy to trace, and most of the family I have been able to research are his direct descendants.  Howevver, if you have BROWN or HALL ancestors in this area of Northumberland, or if you have HOLLAND or BOURDILLON ancestors, then read on to see if you might be in his tree!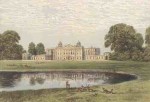 If you have any further information about the BROWN ancestry, please leave me a comment below.
BROWN
Lancelot was born in 1716 in Kirkharle, the son of William BROWN and Ursula HALL.
William BROWN worked as a land agent for Sir William Loraine, the local landowner, and it was at his country house in Kirkharle that he met Ursula HALL, where she was working as a chambermaid.
William's parents were Lancelot BROWN and Dorothy (surname unknown).  William's parents were Lancelot BROWN and Dorothy (surname unknown). Unfortunately, that is as far back as online research can take me as far as specific ancestors go.   However, According to Jane Brown's Lancelot 'Capability' Brown: The Omnipotent Magician, 1716-1783
, William's ancestors were from Redesdale.
HALL
Lancelot's mother was Ursula HALL. She was the daughter of John and Ursula HALL of Girsonfield, the Halls being descended from Border clans. Again, this is another very common surname and extremely difficult to trace without very meticulous research. If you have any further information about the HALL family, please let me know.
DIRECT DESCENDANTS.
I have only been able to find information about two of Lancelot's children, though he had at least nine children with his wife, Bridget WAYET, whom he married in 1744 at Stowe.
Tracing descendants with this surname is almost impossible using only the internet, so if you do have further information about descendants, do let me know.
Children and known descendants:
BROWN, HOLLAND & BOURDILLON:
Bridget BROWN m. Henry HOLLAND 11 Feb 1773, St. Georges, Hanover Square.  Issue:
Lancelot HOLLAND. B. 1782. M. Charlotte Mary PETERS.  Issue:
Emma HOLLAND 1813. No further info
Louisa HOLLAND 1823. No further info.
Sophia HOLLAND 1818. m. Francis BOURDILLON.  Issue:
Francis William BOURDILLON. m. Agnes Watson SMYTH.  Issue:
Francis Bernard BOURDILLON 1883, Wadhurst.  Needs further research
Sophia Louisa Nicolette BOURDILLON m. Robert B CHATWIN.  No issue known
Robert Benedict BOURDILLON m. Harriet Ada BARNES.  Issue:
Thomas D BOURDILLON 1924 (mountaineer –  died in climbing accident 1956) m. Jennifer E C Thomas Issue: 1 son, 1 daughter.
William H BOURDILLON 1926 (no further info)
Sophia BOURDILLON (no further info)
Bernard Keene BOURDILLON m. Laura Elizabeth Providence TOWNSEND 1880, Harrogate.  Issue:
Sir Bernard Henry BOURDILLON (1883, Tasmania) (Governer of Uganda)
Helen BOURDILLON (1885, Tasmania)
Lancelot Gerard BOURDILLON (1888, Cape Town)
Frederic Lancelot BOURDILLON (no further info)
Emily HOLLAND (no further info)
Henrietta HOLLAND (no further info)
Eleanor HOLLAND (no further info)
Wilmot HOLLAND m. Margaret WELLS Bromley, Kent 1857.  Issue:
Frances E HOLLAND 1859 London (no further info)
Herbert Wilmot HOLLAND 1864, Beckenham m. Jennifer MONCUR.  Issue:
Herbert Dingwall HOLLAND-RAMSAY m. Dorothy Courtenay (Issue)
Mary Frances HOLLAND. m. Sir Robert CRAUFURD 1800.  No issue (known)
Henry Holland, architect. (no further info)
Lancelot BROWN MP. b.c. 1748 Stowe, Buckingham. (MP for Huntingdon) m. Frances FULLER 1788, Lausanne, Switzerland
I could not find anything else about Lancelot the younger – and I don't know whether he had any children – I could not find any. If you know different, please let me know.
William BROWN, b. 1750, Stowe, Buckingham.
Adam John BROWN b. 1751
Thomas BROWN b. 1761
Margaret BROWN
Lancelot actually had nine children, but I have been unable to find any information about the names of the other three, or what happened to the named ones above. The Browns moved to London in 1751, so all the children born after that date would have been born/baptized in the Hammersmith area of London.
SIBLINGS:
Lancelot was the 5th of 6 children all born in Kirkharle. Again, tracing the name BROWN is fraught with difficulty, but this is what I have managed to find out about his siblings:
Dorothy BROWN b.c.1704
There are several possible marriages in Newcastle on Tyne – or a possible marriage in Hartburn, which is not too far from Kirkharle. However, this is in 1738, so she would have been about 34, which is quite old for marriage at that time. The spouse's name is Mark HALL – another fairly common name, and possibly a cousin, but if you have HALL ancestry going back to this marriage, it might be worth checking this out.
Mary BROWN b.c. 1706
Again, this is too common a name – and I can find no marriage in Kirkharle.
John BROWN b.c.1709 (Estate Surveyor) m. Jane LORAINE (daughter of Sir William LORAINE, 2nd Baronet of Kirkharle. Loraine was the landowner that Lancelot was apprenticed to as a gardener in his youth.)
I can find no children of this marriage, and considering that Jane was about 41 when they married, it may be that there was no issue.
George BROWN – mason-architect. B.c. 1713 Kirkharle
As with the sisters, the name is too common to be sure. There is a marriage to a Dorothy FORSTER in Hartburn in 1748, and other possible marriages in Stamfordham and Haltwhistle. Further research needs to be done to eliminate the wrong ones
Elizabeth BROWN b.c.1719 Kirkharle
Same problem as above.
Obviously there is plenty more research to be done here, but the online research is very limited given the common surnames and availability of documents.  Please feel free to leave comments if you have any further information.