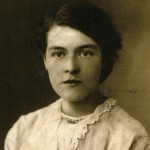 In my series looking at my female ancestors and their experiences of World War I, we have now come to my own maternal grandmother, Elizabeth Reid. Obviously I knew a bit more about her before I began my research. She was born on 28th December 1892 at Harpurhey, like her sisters, and baptized the following February. They were living at 222 Conran Street, a rather bleak looking side-street these days which looks as though most of it has been cut off and re-built so I have no idea what the house might have looked like.
Her father died when she was 5, and on her 8th birthday her mother entered the workhouse infirmary after turning to drink after the early death of her husband. My mother can remember her telling her about being dragged through the streets by her mother with nowhere to go. What a bleak and horrible few years my grandmother must have had in her early years.
After her mother went to the workhouse she was fostered by the Carroll family. In the 1901 census she can be found under her own name with the Carrolls and described as their 'adopted daughter'. However, she took the name Carroll for some time – several years after her mother left the workhouse. We have postcards written to her as 'Lizzie Carroll', and I believe she was known as Lizzie for most of her life. I think she had quite an interesting and happy time with them. They took her on a trip to Australia with them, which must have been quite an adventure at that time.
Now, for the war years we have a bit of a mystery. My mother owns a locket of Nanna's with a picture of her husband Francis on it (see below). However, on the reverse is a photographic portrait of a young man in soldier's uniform. The locket came to my mother in an envelope with the following handwritten text on it:
2483 Lennard
miniature
Photograph – Tester Bros?
Seaford
(Nr. Brighton, Sussex)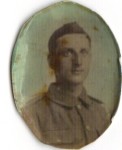 In pencil on the side is written the name 'Jack'. We think that this gentleman must have been my grandmother's 'boyfriend', perhaps even a fiancee, who was killed during the war.
I have searched and searched for a Jack Lennard in the WWI military records, and for the regimental number of 2483, but found nothing that fits all elements. I have searched the census records for someone living in Manchester, and I also looked up the Tester Brothers and found that they did a lot of portraits for the local training corps in Sussex – so presumably Jack or John, or Mr Lennard/Leonard, was based here for military training. There was a Jack Lennard born in Sussex, whose service records I have seen, and who died after the war in 1923 – but I have no idea how my grandmother would have known someone in Sussex.
Sadly, it may be that his records are part of the many WWI records that were destroyed during WWII bombing.
We tend to think of the mothers, wives and children when we think of those men who died, but what about the sweethearts? Those would never receive a war widow's pension or have that status of wife of one who served; those who were robbed of the chance to live with their beloved as man and wife. I think my grandmother was one of those women, but it is nice to know that some time after the war she met Francis Manley (see my blog post), who was 30 years her senior and probably a bit of a father-figure whom she would feel would look after her. Francis was a widow with several grown up children and was already retired from his job as a Railway goods clerk.
They married in 1923. My mother Joyce was born in 1924 and two years later my Aunt Dorothy. Soon after Dorothy's birth they moved to the Isle of Man and my mother had a very different childhood to her mother's – growing up next to the sea and playing on the beach nearly every day.
Sadly, Francis was to die of a stroke just 12 years after they were married, but according to my mother those 12 years were very happy, but it is sad that once again my grandmother was plunged into financial difficulty, and they had to move from their home to somewhere less pleasant. My mother left school early and had to work to bring in an income.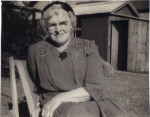 In later years my grandmother was more settled. I remember visiting her in her house in Douglas, which always smelt of China tea – something she was particularly fond of. She had a poodle called Chico who was a terror to all who came near him.  I also remember  that she had a constant wheeze (which I now realise was probably from her years in Manchester).  She was a worrier, but could also be quite fun, and I remember sitting next to her at the dinner table at Aunt Dorothy's and her digging me in the ribs and giggling at some risque joke.  Despite all the difficulties of her life and all her worries, she was always able to laugh and have a bit of fun.  Nanna died in 1980 in a nursing home in Douglas, Isle of Man.
And possibly, it is our ability to laugh and have fun that helps us all survive the bad times. I get the feeling that all those sisters had a sense of humour, which may have helped them get through the war and all the other difficult times.