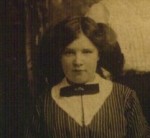 This is the last in my series of blog posts about my grandmother and her six sisters.  This one is about the youngest, but perhaps most enterprising of the seven girls.
Like her older sisters Dorothy was born in Harpurhey and was baptised in April 1895. She was christened Dorothy Benson Read, the Benson being after her paternal grandmother, born Mary Ann Benson in Dublin.
As the youngest, Dorothy was only two years old when her father died, and had a rough time of it in her childhood as her mother went to pieces and ended up in the workhouse infirmary. Like my grandmother, she was fostered out, and at first I was not able to find her on the census as her surname was changed to the name of the family who fostered her.
However, once I found her marriage, I discovered her foster name. She is the Dorothy B Read who married Augustine Morgan in 1927 in Manchester North, and luckily the index for this marriage gives an alternative surname of Parks. I therefore looked up Dorothy Parks in the 1901 census and found her with the Parkes family – not far from her own home in Harpurhey. Allan Parkes, her foster father, was an Irish bookkeeper for a cotton mill, and her foster mother, Veronica, was a draper working at home on her own account, also Irish. The residence was also a shop, and there is a clue here to Dorothy's later life, as we shall see. I think she learned a lot from this family.
In 1911 I found her as Dorothy Parks living in Bradford with her adoptive sister-in-law Veronica, who had married Alfred Henry Gardner, an estate agent's clerk. Dorothy is described as a machinist in a shirt factory.
I am sure that Dorothy did her bit during the war. Given her character, she may have signed up for the Women's Auxiliary Army Corps, or perhaps worked in a munitions factory. Whilst searching any other records, I found that the Red Cross site now have an online search engine. At the time of writing, only surnames from A to E were available so I was not able to search for Dorothy or the other sisters, but they should shortly have all surnames available, which will be extremely useful: http://www.redcross.org.uk/About-us/Who-we-are/History-and-origin/First-World-War
From here, I have a piece of information about Dorothy that dropped into my hands a few years ago. When our cousin Alice died, we inherited some scrapbooks of hers, and amongst these was a reference to her Aunt Dorothy. This told us that she had worked as a buyer in Lewis's, and had at one time had to buy and arrange a dinner service for a royal visit to Manchester.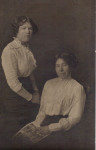 We have an interesting photograph of Dorothy, with her oldest sister Maude, shown here. Maude (in foreground) is pointing at a photograph. I have looked at this with a magnifying glass, and although it is difficult to see, I believe it is a picture of that dinner service. It may be that Maude had helped her with the task. The two sisters look proud, and it is my theory that they look out at us from their early 20th century viewpoint, and say 'Look at us. We are women, and see what we can achieve.'
In the 1929 Kelly's Directory for Manchester and Salford, Augustine is entered as a 'Manager', living at 46 Edale Avenue, Moston, Manchester. This is very close to Harpurhey. In the same year, a Mrs Dorothy Read Morgan is listed under Milliners at a different address: 48 Ashton New Road, Beswick, which is further south. According to StreetView, this is a rather shabby looking street, with a few run down shops, many of which are currently boarded up. My guess is that Dorothy had set up her own business here, with her husband perhaps as the manager, and they lived and worked between the two properties.
It is obvious that Dorothy was interested in having a career. So where did the job at Lewis's fit in? Unfortunately, Dorothy's left hand is obscured in the photograph, so I cannot see whether she was married by this time. However, judging by the women's clothes, this definitely looks earlier, even before the 1920s. This looks to me as though it was taken perhaps during or a little after the war. The blouses are still quite Edwardian looking, but while Maude still has an Edwardian looking hairstyle, Dorothy has a more modern bob. My guess is about 1919-20. If anyone can give a more expert opinion on this I would be grateful.
So Dorothy probably was working at Lewis's before she was married, and later went into business with her husband. Reading between the lines, I think she must have been a very determined and forward thinking young lady. She would have welcomed her enfranchisement and was ready to grasp with both hands the new opportunities that were becoming available for women.
I could find no children for Augustine and Dorothy in the registers, though I do know that they had a son called Austin, because my mother remembers him quite well. She also remembers that they spent some time in Australia.
I have not found a death record for Dorothy in Manchester, and because the name is fairly common, it is not easy to find out what happened to her after these dates. I know that they travelled, and went to Australia. Also, in 1957 I found Augustine on a passenger list returning from a trip to Boston, Massachussets. His permanent address is still the one at 46 Edale Avenue and he is described as 'retired'. Dorothy does not appear to be with him. I do hope that she did not die young.
Of the seven sisters, Dorothy is the one with her feet most firmly planted in the future, the one who seems to have taken the new opportunities run with them. What she achieved may seem modest by today's standards, but she was born in a time and place with very little choice for women, and she was determined to get through that small chink in the door that came with enfranchisement and new working opportunities for women. I say, good on her – and I am proud to have her and her sisters in my family tree.