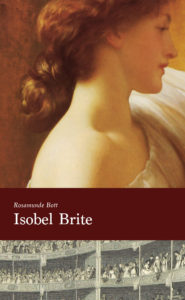 You probably know that I am a writer as well as a genealogist, and so I am happy to post here that I published my new historical novel, Isobel Brite, just before Christmas.
It's been a long time in the making.  I first had the idea a very long time ago after finishing my OU degree.  As part of a final dissertation on local entertainment in the Daventry area, I had researched a local travelling theatre company via a bundle of letters held at Northamptonshire Record Office.  The characters in this company intrigued me, and I felt that the characters, and the life of travelling actors, could very well form the basis of a historical novel.
I started writing Isobel Brite, with the eponymous main character being my own creation, a determined, talented and self-centred young woman who matures throughout the book as she struggles to deal with the ups and downs of theatrical life and the choices she makes.
The two men in her life are my fictional creations, but many of the characters in the novel are based on real people, particularly, her good friends Henry and Caroline Hartley, who were members of that travelling theatre company I researched.  Henry was a prolific letter writer, and so I was able to glean much about his character, as well as the life of a travelling actor in the early Victorian period.
I also had fun creating little cameo roles for other theatricals (based on real people) Isobel meets along the way.
The book was put on a back-burner while I got distracted by other projects, and other stuff, like earning a living.  But every so often, Isobel would come and tap on my shoulder and demand my attention.  I finally decided I had to commit myself to finishing it a year ago, and was determined it would be out in 2017.  I just about managed it!
But I enjoyed writing it, and Isobel took over and sometimes showed me the way herself.  The themes of the novel developed as I wrote.  It is a novel about growth, friendship and the consequences of the choices we make in life.  Isobel is better at making career choices than she is making romantic choices, and the two will affect each other in very profound ways…
Isobel Brite  can be bought at Amazon HERE