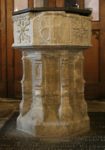 One of the most frustrating brick walls in genealogy is when you cannot find an ancestor in the local baptism registers, and they have died before the 1851 census when specific places of birth were given.  You might even have found that in the 1841 census they are described as 'not born in county', which is about as helpful as a chocolate teapot.  This is especially difficult when the name is a common one.
While this can sometimes be an almost impossible brick wall to break through, there are some strategies you can carry out to make sure you have turned over every stone.  Here are a few that I use:
Check the Marriage
From 1837, marriage records give the father's name, which can help considerably, but is still a problem with common names as, for example, there will be several hundred William Collins, son of John, born in about 1790 throughout the country.
From 1754, marriages in the parish registers have the signatures of two witnesses.  Make a note of these witnesses.  Often they are relatives of the bride or groom, so they are worth following up.  If you can find these on the census, or other records, you may be able to get some idea of where they were from, and therefore, particularly if they are siblings, where your ancestor is from.
Poor Law
If you think your ancestors were poor, then it is very worth while checking the Poor Law Records in the local record office (or do a search on the National Archives Discovery search engine).  If your ancestors were receiving parish relief they may have had to make a statement to prove why they were eligible for relief in that parish.  In some cases, they and their family may have been removed back to a parish where they were born.  These are known as Settlements and Removal Records.  These records can be extremely useful where you have no other records to tell you where they came from, and often give detailed accounts of the person's family and circumstances.
Wills
On the other hand, if your ancestors were wealthy, then you should always check any wills indexes (Ancestry, National Archives – plus local record office indexes).  If your ancestor left a will, he may not mention where he came from but the places where he has property may be a clue, and also you can look at all the relatives he mentions in the will (particularly any siblings, cousins or older relatives) and you then then research them and find out where they are from.  Also look for any wills who might be relatives of your ancestor to see if they mention your ancestor.  You can then get further information about your ancestors' family, and where they might be from.
Apprenticeship Records
If your ancestor had a trade, then it is worth checking to see if he was an apprenticed to a master when he was younger.  FindMyPast has a good collection of these.  Sometimes apprenticeship records give the name of the apprentice's father, and some cases the master is the father, so they can be useful to identify a parent, and hopefully from there a place of residence.
Newspaper Records
This is unlikely unless your ancestor was involved in some sort of incident, or was important enough to warrant an obituary, but it is always worth checking newspapers and see if your ancestor has been mentioned for any reason.  FindMyPast has a good collection of newspaper archives – and you can also try the BritishNewspaperArchives.  This is a bit hit and miss, but you never know, and an article or obituary may just mention where the person was born.
Once you have exhausted these possibilities, and you still have not found your ancestor, then the chances are you will have to leave this one for a while, and hope that something else comes to light at a later date.  I never like to totally give up on an ancestor, but sometimes you do have to let go – at least for a while!