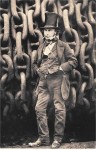 Next in my series of "Genealogies of the Famous" is Isambard Kingdom Brunel.  In 2002 a British poll put him as the 2nd greatest Briton (the first was Winston Churchill).  It is not that surprising, as his achievements as a civil engineer are pretty amazing, and his legacy stays with us in many of our railways, bridges and tunnels, including the Clifton Suspension Bridge, The Great Western Railway and Box Tunnel.
I am not going to give an overview of his life and work here, as that has been done elsewhere, but if  are interested to know whether you might be related to Isambard Kingdom Brunel, then here are some of the surnames that are connected to him, either in direct relationship or through marriage:  BRUNEL, KINGDOM, LEVEBVRE, SPRY, HORSLEY, JAMES, NOBLE, MADAN, CAMPBELL, JEBB, HAWES, HURST, MACCARTHY, HARRISON.
I have not found a published tree of Brunel, but I have done a little bit of research myself to find his ancestors, his direct descendants, and descendants of his siblings.
DIRECT DESCENDANTS
If you are interested in living descendants of Brunel, then here is a summary of Isambard's direct descendants:
BRUNEL
There do not seem to be any direct descendants of Isambard with the surname BRUNEL.  Isambard and his wife Elizabeth had three children: Isambard Brunel, Henry Marc Brunel (also a civil engineer) and Florence Mary Brunel.  Isambard junior married a Scottish woman, Georgina Geils D NOBLE, but they do not seem to have had any children.  Henry Marc does not seem to have married at all.
JAMES
The line of descent can therefore only be traced through Isambard's daughter, Florence Mary.  In 1870 she married Arthur Coleridge JAMES, a housemaster at Eton College.   They had two daughters, Celia Brunel and Lilian S.  As there were no sons, there are no living JAMES direct descendants.
NOBLE
In 1891 Celia Brunel JAMES (granddaughter of Isambard) married Saxton William A NOBLE (another successful engineer) and they had four children, all born in Newcastle upon Tyne: Humphrey Brunel NOBLE (b. 1892), Marjorie Florence NOBLE (b. 1896), Marc Andrew Patrick NOBLE (b. 1897) and Cynthia NOBLE (b. 1898).
Humphrey Brunel NOBLE married Celia WEIGALL in 1926 in London, and as far as I can see, they had three children.  I am not naming these here as they may still be living, and if they had children these are the NOBLE direct descendants of Isambard Kingdom Brunel.
Marc Andrew Patrick unfortunately died in World War I in 1917, and was not married.
MADAN
Marjorie Florence NOBLE (great granddaughter of Isambard) married Geoffrey Spencer MADAN.  They had at least one child, Nicola MADAN.
CAMPBELL
Nicola Madan married Gordon CAMPBELL, Baron Campbell of Croy, and they had three children.  These CAMPBELLs are the direct descendants of Isambard.
JEBB
Cynthia NOBLE (great granddaughter of Isambard) married Hubert M G JEBB (politician) and had at least two children, who may be still living and have issue.  These JEBBs are the direct descendants of Isambard.
DESCENDANTS OF SIBLINGS
Isambard had two surviving siblings, Sophia Macnamara BRUNEL and Emma Joan BRUNEL.  A third sister died in infancy.  There were no brothers.
HAWES
In 1820 Sophia Brunel married Benjamin HAWES (Whig politician) in Chelsea, London.  They had six children, Sophia Brunel (b. 1822), Benjamin (b. 1828), Sarah Fox (b.1830), Isambard Brunel (b. 1831), Arthur Briscoe (b. 1833) and Maria Gurney (b. 1834).  Isambard died in infancy, and I have only been able to find two marriages for the other children – though it is possible there were more.
Arthur Briscoe HAWES carried the line of descent through by marrying Susan CATTELL (born in India) and having 11 children: Arthur Reginald Murray (b. 1855 in India), Susan E. B (b. 1857 at sea), Florence M. (b. 1859 in London), Sarah M H (b. 1862), Frederick Benjamin Oliphant (b. 1863), Godfrey Charles Browne (b. 1866), Edmund G C (b. 1867), Ivan H. S. (b. 1869), David Marc A. G. (b. 1870), Percy Frederick B (b. 1872) and Winifred Mary B (b. 1874).
Amazingly, most of these children do not seem to have married and several of them were listed in the 1911 census as single people.  One or two of them may have emigrated and so these descendants need further research.
Of all of these I was only able to find one marriage and continued line of descent.  This was through Godfrey Charles Browne HAWES who married Ellen Wyndham LEWIS in 1895, and had at least three children : Benjamin Wyndham Brunel (b. 1897), Marguerite Vernon Brunel (b. 1900) and Ernest Isambard Brunel (b. 1905).  As you can see, the Brunel connection is still proudly borne in the names of these children.
I am not sure whether Godfrey and Ernest married, but if they did their children would be the great-great grand nephews and nieces of Isambard.
HURST
Marguerite Vernon Brunel HAWES married Harold E HURST in 1931.  However, I could not find any children for them.
MACCARTHY
Sophia Brunel HAWES (Isambard's niece, and daughter of Sophia) Charles Justin MACCARTHY (Governor of Ceylon) in 1848.  Obviously, they traveled quite a bit, and I have only found one son, though there may be more: Richard H. MacCarthy (b. 1849 in Ceylon).  Unfortunately, I was unable to find anything else about Richard and whether he married, so this is a line that needs further research, possibly outside of the UK.
HARRISON
Isambard's other sister, Emma Joan, married George HARRISON (curate)  in 1836.  I have found one son for them: John HARRISON (b. 1844 in Brentford, Middlesex).  I think that John married and had children, but unfortunately, because he moved around on the census (not always with his family), and also because this name is so numerous, I have not been able to definitively place his wife or children.  He may have married a Harriet.
It is quite likely, therefore, that there are further HARRISONs who are direct descendants of Isambard's sister, but this would need some extensive research, including the ordering of birth and marriage certificates.
ISAMBARD'S ANCESTORS
If you have the surname BRUNEL, KINGDOM or LEVEBVRE, there could be a connection with Isambard's ancestors, but further research is needed:
BRUNEL
Isambard's father was Marc Isambard BRUNEL (also a prominent engineer who designed the Thames Tunnel), and he was born in Hacqueville, Normandy in France in 1769.  He was the son of Jean Charles BRUNEL and Marie Victoire LEVEBVRE.
I can find not other children on the IGI, and as I do not have access to any other French records, then further research would be necessary in French archives to find BRUNEL or LEVEBVRE connections.
KINGDOM
Isambard's mother was Sophia KINGDOM, and she was born in 1775 in Plymouth, the daughter of William KINGDOM, an army and navy contracting agent.  I believe that William was married to Joan SPRY, and they had numerous children.  However, I have not been able to absolutely verify the marriage or children, and this would need further research to make any connections with any living descendants.
CONNECTION BY MARRIAGE
HORSLEY
Isambard was married to Mary Elizabeth HORSLEY.  Her father was William HORSLEY.  William was a musician who wrote many symphonies and songs, including the hymn, "There is a Green Hill Far Away."  Apart from Mary Elizabeth, he also had two sons, Charles Edward HORSLEY (also a musician) and John Calcott HORSLEY, a painter, who I believe designed the first Christmas card.
John Calcott married Rosamund HADEN, and they had at least several children (Walter Charles, Hugh John, Victor Alexander Haden, Emma Mary and Fanny Marian.  Of these, Victor  became a famous scientist and professor and was knighted in 1902.  He married Eldred BRAMWELL and they had three children, Siward, Oswald and Pamela.  Further HORSLEY descendants may be traced via these children.
I have not researched the other children of John and Rosamund, so it is quite possible that there are further lines of descent to be found through these lines.
Charles Edward Horsley was also married, but needs further research to trace a line of descent.
Clifton Suspension Bridge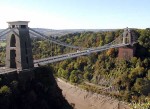 Tracing Isambard Kingdom Brunel's family has been a fascinating project.  His children and extended family were successful in their own right, and the female members of the family seem to have married into very prominent and successful families.  If you think there may be a connection with your family, I would be happy to carry out the necessary research (my fees are listed on my Research Services page).  If you would like a copy of the tree I have compiled, please email me at info@tracingancestors-uk.com.
Please also let me know if you have any preferences for my next famous person in my "Genealogies of the Famous" series.
Books About Isambard Kingdom Brunel:
Isambard Kingdom Brunel by L. T. C. Rolt
Brunel: The Man Who Built the World (Phoenix Press)
Brunel: The Life and Times of Isambard Kingdom Brunel
More books about Brunel…