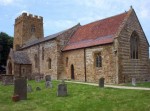 It's been a long time since I last posted, and this is because I have recently moved house – to the very rural village of Whatcote in Warwickshire. Of course, being interested in all things historical, I have looked on the internet for any history linked to this village – but all I have found is that the Church of St. Peter's was partly destroyed by a rogue German bomber on its way to blitz Coventry during the war, and that Cromwell stayed here before the Battle of Edgehill.  I would be very interested to learn more Warwickshire history specifically relating to this extremely beautiful area of countryside.
The village is close to the larger village of Tysoe, within a lovely expanse of open countryside between Shipston-on-Stour and Kineton, just off the A422, half way between Stratford-upon-Avon and Banbury.  It's also close to Compton Wynyates, so that is going to be a must on our list of summer outings this year.
I can tell you that the dog is very happy because the variety of dog walks is unsurpassed – and there's nothing she likes better than to be off the lead, exploring in a large open expanse of field!
A few drawbacks – I had to change my mobile phone network as I found there was no coverage here – and the time it has taken to set up a phone line and broadband is beyond belief.  Communications are mainly in place now, however, so it's business as usual – and I am ready for lots of orders for tracing ancestors – and exploring any churchyards in this area would be a pleasure!
And if anyone knows anything about the history of this area, do please let me know.
Toodlepip.