The next in my series of Women of World War I is Lottie Reid.  We knew very little about Lottie before my research, except that she was the next oldest to my grandmother, born about 1890.  I like the look of Lottie – she looks ready to burst into a smile or laughter any minute.
I had often thought that her name was short for Charlotte – but no, she was actually christened Lottie, according to her baptism record which was in 1889 in Harpurhey. The family were now living at 23 Clifton Road. I found that the house still exists, and is a small flat-roofed terraced house with a basement. With seven of them now in the household it must have been pretty crowded – but by the 1891 census they had moved again to 23 Conran Street. This house does not exist now, but I hope it was a little larger!
In 1911 I found that Lottie was boarding with a family called Stanley in Blackley. Her occupation is described as 'making up' in the paper mill, making wallpaper. This is presumably the same paper mill that her father worked in as a paper ruler. Interestingly, my mother remembers that her mother had rolls of beautiful wallpaper which must have come from this mill.
In the marriage indexes, I found that Lottie married Harry Truin in 1913. In 1911 I found that Harry was an assistant salesman for a calico printer and had been born in Bradford, Yorkshire, but was now living with his parents in Moston.
So – did they have children? I searched the indexes using Truin as the surname and Lottie's maiden name for the mother. I found two children, Joseph H in 1914, and Harry much later in 1921.
The large gap between the children indicates Harry's absence during the war, but also a gap for some years after the war. I have seen this happen before when searching for the children of couples living during war periods. It suggests to me two possible reasons: a late de-mob, or that the physical or psychological wounds can have an effect on the ability to conceive.
The two war records I found for Harry tell me that he was in the Royal Army Medical Corps, and that they were living in 1 Brunt Street, Rusholme – a typical red- bricked terraced street as far as I can see. No. 1 seems to be at the nicer end, with small green square, though whether the patch of green was there then is another matter.
I was delighted that one of the records for Harry was the National Roll of the Great War, which tells me a great deal of his war experience and the medals he won. I quote from it exactly: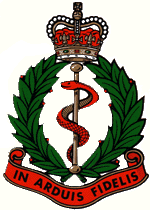 'TRUIN, H., Private, R.A.M.C
Volunteering in April 1915, he was drafted in the following month to France and was attached to a field ambulance, as a stretcher-bearer and orderly in the advanced dressing stations at Ypres, Passchendaele, the Somme, La Bassee, Givenchy, Festubert, Cambrai, Lens and Loos. He did valuable work in the care of the wounded, and after the Armistice, entered Germany with the Army of Occupation, and was stationed at Cologne. On his return he was demobilised in June 1919, and holds the 1914-15 Star, and the General Service and Victory Medals.
1, Brunt Street, Rusholme, Manchester.
Badge of the R.A.M.C.
Well, perhaps not quite a hero – the medals were fairly standard issue, and the General Service Medal was probably the one for service after 1918 – but a good account, and he certainly did his bit, and perhaps saved some lives. I came across a poem that I feel I must copy here.  It's by Cpl W.H. Atkins – and that's all I know about it:
We carry no rifle, bayonet nor bomb,
But follow behind in rear
Of the steel fringed line that surges a long
With a ringing British cheer.
Through the tangled wire of the blown-in trench,
Spite of shrapnel or bursting shell,
We make for the spots – Khaki-clad, helpless blots –
That mark where our front rank fell.
We are the men who carry them back.
The wounded, the dying and dead.
It's "Halt!" "Dressing here" – "Come, buck up, old dear,"
"You're all right for "Blighty," so be of good cheer –
Turn him gently, now bandage his head."
The "stretcher-bearers" doing their bit,
Of V.C.'s not many they score,
Yet are earned every day in a quiet sort of way
By the "Royal Army Medical Corps."
Oh! it's weary work in the white-washed ward,
Or the blood-stained Hospital base,
To number the kit of the man who was hit
And cover the pale, cold face,
Or hand out fags to the brave boy in rags,
Who'll stick it and cheerfully grin,
As the deftly used knife cheats grim death of a life
While the grey of the dawn creeps in.
To hold the hot hand of the man who talks wild
And blabs of his wife or his kids,
Who dreams he is back in the old home again,
Till the morphia bites, and he loses his pain
As sleep settles down on his lids.
The "Hospital Orderly" doing his bit,
Of V.C.'s not many they score,
Yet are earned every day in a quiet sort of way
By the "Royal Army Medical Corps."
The bearers creep out in the dead of the night.
"Oh! bring 'em along this way.
Four in one hole! good God, what a sight!
Keep down your heads from the glare of the light.
We're 'spotted' as clear as day."
I think we can say they were heroes, even if not officially so.
The demobilisation in 1919 goes some way to explaining the birth of the other child in 1921. But I also think that it must have taken some time to recover from what must have been some traumatising sights as a medical orderly in those battles mentioned above.
And it may be that those experienced did have some effect on his health for I found that, sadly, he died young at the age of 37 in 1927, leaving Lottie with a 13 and a 6 year old.
With a new baby at the start of the war, Lottie may have been restricted in what she could do for the war effort. However, I am suddenly remembering the photograph of Great Aunt Maud in nurse's outfit and a baby on her knee (see blog post dated 20 April). I wonder, could this have been her nephew Joseph? With so many sisters, it's possible that they all chipped in with babycare to allow a mother to do her bit.
In the 1929 issue of Kelly's directory she is listed as Mrs Lottie Truin still at 1 Brunt Street. In the same year her son Joseph, at the age of 15 is on board the ship "Osterley" bound for Australia, intending to live there permanently. I can see no other name on the passenger list that I recognise – so was he travelling alone? Had he also, like his Aunt Alice, taken advantage of the assisted passages to live a better, cleaner life? What did his mother feel about this? As is so often the case, search results pose more questions than answers…
A year later Lottie married again, to a Robert Roberts. It is also possible that she had another child with Robert – a Jean A Roberts, born at the end of the same year. However, with the two common surnames of Roberts and Read it is difficult to be sure this birth is from this couple.
Her son Harry Truin married Florence Saxon in 1940 and had three children, Jean, Carole and Harry.
There are two possible death records for Lottie, one in Liverpool in 1978 and the other in Blackpool in 1967. So unless she married a third time, it seems the she and Robert moved away from Manchester. Or perhaps she moved away after Robert's death.  Looking at the clues, it seems she lived a life of ups and downs.  Her husband survived the war, to die young.  Her eldest son left to live in Australia, but hopefully she found happiness in her second marriage and lived to a good age.  These Manchester women were survivors!