While it is fascinating and compelling, family history can also be frustrating, and in some cases you will only end up with a list of names and dates with no documentary evidence for what they did or how they lived.  It is not always that easy to find out more details about an ancestor, especially if they were not wealthy.  On the other hand, sometimes you can end up with so much information that it is difficult to collate it all together and put it into a readable and interesting format.
However, even if you do not have a lot of information on an ancestor, it is possible to find out a lot about how they lived by looking at local history, and researching their occupation.
As well as being a genealogist, I am also an experienced writer with a very sound knowledge of English history.  If you have an ancestor, or a family unit, that you would like to 'flesh out' a bit, I can offer a service whereby I write up a detailed biography of this person, using background local and international history research where needed.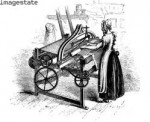 Images can be added to the biographies (either provided by you, or out-of-copyright) to make it an enjoyable read for you and your family.
The fee for this service depends on how much extra research you need me to do, and whether you want the biography of a single ancestor, or a whole family unit.  As a guideline, the fee would range from £200 to £800.
I have a sample of one of my own ancestor's biography which I can send you.  Just email me at info@tracingancestors-uk.com and I will send you a pdf file.