Many people like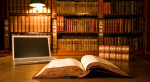 to do their own research these days – but even the best researchers will hit a brick wall from time to time.  And if you are just beginning your research, the amount of information available, and the best ways of using all the genealogical resources and websites can be very daunting.
While you may enjoy the process of carrying out your own research, there will be times when you may need a little bit of professional advice.
I offer a service whereby you pay an upfront fee and explain your problem to me, along with all the resources and searches you have already tried, and I will provide you with advice about what you should try next.  This service DOES NOT include actual research – however, depending on the question, I may carry out some brief searches to see where there may be potential success, or to make sure you have covered all possible searches on a particular database.
There is a flat fee of £18 for this service, and this will include some or all of the following:
Links to websites that you may not have tried.
Contact details for other professionals that may be of help to you
Advice about what searches to carry out next
Advice on how to search a particular resource
Information about historical or local background that may have some bearing on your ancestors' movements.
I aim to answer all questions within two working days.
If I am unable to offer any of the above, I will refund your money.
To use this service, click on the BUY NOW button below where you will be able to safely pay using Paypal.  During the process you will be able to send me a message with you question details.  You can also email me at info@tracingancestors-uk.com if you need to give me any further information.