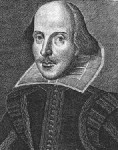 It is a sad fact that there are no direct living descendants of the great bard, William Shakespeare.  The direct line ended with his grandchildren, but of course there is always the possibility that anyone with the surname SHAKESPEARE (with or without the first or last 'E') could have links higher up the tree.  Unfortunately, while there are some possible trees that have been researched going back to the 13th century, there is no definitive Shakespeare genealogy before Will's grandfather, so proving a connection with 100% conviction would be probably impossible.
However, there are other names on the Shakespeare family tree, the descendants of whom could still exist today.  While some of these would have to be linked higher up the tree (therefore not having a blood link to Shakespeare), these families would still be of great interest as many of them have been well documented.
The most likely surname to have blood ties with William Shakespeare is the name HART.  William's sister Joan (and the only sibling to outlive him) married a William HART, and two of their sons survived into adulthood, one of them, William becoming an actor like his uncle, and the other, Thomas, married and had three children whose descendants live today.  William never married, but is believed to have had an illegitimate son, Charles, a Restoration actor, who may also have living descendants.
Shakespeare's other siblings either died in childhood, or never had any children.
Shakespeare's mother, Mary ARDEN, came from an aristocratic, land-owning family who could trace their roots back to England before the Conquest, but it would be difficult to take any ARDEN name back to Mary's immediate family as all of her siblings were sisters.  Five of them married (two of them twice), and the names they married into were ETKYNS, SCARLET, STRINGER, HEWINS, LAMBERT, CORNWELL and WEBBE.  I know that the LAMBERTs and WEBBEs had at least one child – but whether or not any of these lines have descendants living today I do not know.
As for tracing any families that may be connected to Shakespeare through marriage (but not through blood), the following information may be of interest:
Not much is known about the family of Shakespeare's wife, Ann HATHAWAY, other than that her father, Richard, was a yeoman farmer.  We know that the name still exists today (at least in one famous actress), but whether this line can be traced back to the Hathaways of Warwickshire is uncertain without there being much information about this family.
William's first daughter Susanna married Dr. John HALL, a respected physician, in 1607 and their only daughter Elizabeth married Thomas NASH, and when he died she married John BERNARD and living in Abington Hall in Northamptonshire.  Elizabeth did not have any children, and so the direct line ends here, but the NASH and BERNARD families were wealthy and well known families with good documentation, so finding connections with these families further up the line could be possible.  I do not know whether Dr. John HALL's ancestry is known, but he is mentioned in some academic medical texts where there may be more details about his family.
Shakespeare's only son, Hamnet, died at the age of 11 in a small outbreak of bubonic plague.
Shakespeare's third child, Judith, married Thomas QUINEY, a local winemerchant who was the son of a good friend of Shakespeare's.  Thomas had ten siblings, some of whom married and had children, so it is possible that there are living descendants who could potentially trace their line back to this family (in fact, one of my clients has an ancestor named QUINEY, and it would be very exciting to take this line back further).
Thomas and Judith had three children, the first of whom, named Shakespeare after his famous grandfather, died at the age of six months.  The other two died at the ages of 19 and 21 without marrying or having any issue.
The surname SHAKESPEARE still exists, although it is fairly rare.  In fact, I actually knew a Mr. Shakespeare in Stratford-upon-Avon back in the 1970s!  He was the owner of Ferry House and let out rooms to RSC actors, including my father, mother and me, and where I spent a very pleasant summer at the age of 13.  He was very old even then, and died soon afterwards I believe, but we often wondered whether he had any family links to the great man himself.
As I have said, Shakespeare genealogy links are tenuous and difficult to prove, but if any of the above names are in your ancestry and come from Warwickshire, it could be worth trying to find out whether you have either a blood or marriage link to our greatest playwright.  I would be delighted to help too – even though I would be green with envy!

Recommended Books:
Shakespeare: The Biography
The Complete Works of William Shakespeare (Wordsworth Special Editions)
All Shakespeare books