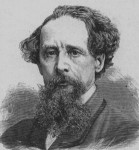 As my Shakespeare genealogy post was so popular, I thought I'd do a similar thing with a few more famous people – and as Charles Dickens is my favourite author it wasn't difficult to choose one!  Much of Charles Dickens' genealogy is fairly well documented, but I've also investigated a few of the 'side lines' in case you find a link to your own tree.
I am not going to go too much into the direct descendants of Dickens.  It's likely that if you are a direct descendant then you are going to know about it already, and many of his descendants are well known, particularly within the theatrical and publishing professions.  A full tree of his descendants can be seen at www.charlesdickenspage/dickens_family_tree.pdf
His direct descendants include:
Monica Dickens (writer 1915-1992).  Author of One Pair of Feet and many other great novels.
Brian Forster (actor b.1960 Los Angeles, USA).  He was in The Partridge Family in the 1970s.
Gerald Charles Dickens (actor b. 1963) Performs one man shows based on the novels of Charles Dickens.
Lucinda Anne Dickens Hawksley (biographer, author & lecturer b. 1970)
Harry Lloyd (actor b.1983 in London)  Played Will Scarlett in the BBC production of Robin Hood.
Charles Dickens (1812-1870) had ten children and they are:
Charles Culliford Boz (1837-1896).  Editor & writer. Married Elisabeth Matilda Moule EVANS.  They had 8 children.
Mary Angela (1838-1896)
Catherine Elizabeth Macready (1839-1929)
Walter Savage Landor (1841-1863) Officer in the Indian Army.  Died in Calcultta, India.
FrancisJeffrey (1844-1886) Member of the Canadian Mounted Police.  Fought in the Battle of Fort Pitt 1885.  Died during a lecture tour in Illinois, USA.
Alfred D'Orsay Tennyson (1845-1912).  Emigrated to Australia & made lecture tours on his father's life.  Married Augusta Jessie DEVLIN in Victoria Australia & they had 2 daughters.  Later married Emily RILEY.  Died in New York during a lecture tour.
Sidney Smith Haldiman (1847-1872) Royal Naval Officer.  Died at sea & buried in the Indian Ocean.
Henry Fielding (1849-1933)  Kings Counsel & Barrister.  Marred Marie ROCHE & they had 5 children.
Dora Annie (1850-1851)  Died in infancy.
Edward Bulwer Lytton (1852-1902) Australian politician.  Married Constance DESAILLY.  Died in Moree, New South Wales, Australia.
There is some scope for Australian and American family historians here!
Charles Dickens' ancestors can only be taken back with any confidence to his grandfather, William Dickens (1719-1785) who married an Elizabeth BALL (1745-1824).  Given that their son, John was born in Marylebone, London in 1785, the BALL family may be of London.  There is an Elizabeth BALL baptized in Finsbury on 16th October, the daughter of Francis and Elizabeth, but there could be hundreds with this name born in that year, so finding a definite link to this line would be very difficult.
Much more is known about Charles's father, John Dickens (1785-1851).  He married Elizabeth Culliford BARROW on 30th June 1809 in London.  Elizabeth was the daughter of Charles BARROW (1759-1826) and Mary CULLIFORD (1771-1851).  Charles, like John Dickens, worked at the Navy Pay Office, and was convicted of embezzling.  He married Mary Culliford on 27th January 1788 in Lambeth, Surrey.
According to a published tree on Ancestry, Charles Barrow was born in Bristol, the son of William Barrow and Anne CASTEELS.  Obviously, this needs confirming, but it may be of interest if you have Bristol or Somerset Barrows or Casteels in your family, and worth looking into.
According to the same tree, Mary Culliford was the daughter of a Thomas Culliford and Mary GOLDSWORTH, who married in Westminster.  Again, this may be worth checking if you have these names in your family.  In fact, Mary's baptism can be found on Ancestry and took place in Camden, Middlesex.
Elizabeth Barrow had several siblings, who may have living descendants, so these would be worth looking into.
John and Elizabeth DICKENS had seven other children apart from Charles.  I do know that there are living descendants, as one of my closest friends is one!
Frances Elizabeth (1810-1848).  Did not marry.
Alfred Allen (1814-1814)  Died in infancy.
Letitia Mary (1816-1874)  Did not marry (as far as I know).
Harriet Ellen (1819-1822) Died in childhood.
Frederick William (1820-1868).  Married Anna WELLER, but they separated in 1858.  Died an alcoholic.
Alfred Lamerte (1822-1860) Railway Engineer.  Married Helen DOBSON in 1836 & they had 5 children:
Alfred E Dickens
Edmund (or Edward) Henry Dickens
Florence Helen Dickens
Katherine L. Dickens
Augusta Maud Dickens
Augustus (1827-1866) Married Harriet LOVELL but he left her and emigrated to Chicago, USA, where he had 3 children by Bertha PHILLIPS, the daughter of an English solicitor.  The children (all born in the US) are:
Bertram Dickens
Adrian Dickens
Amy Bertha Dickens
For a connection to Charles by marriage, we can look at Dickens' wife's family.  If you have Scottish HOGARTHs in your family tree you might be interested in this.
Charles Dickens' wife was Catherine Thompson HOGARTH.  She was born in Edinburgh, the daughter of George Hogarth (1780-1870) a newspaper editor and music critic.  He was born in the Scottish borders and was married to Georgina THOMPSON in 1814 in Edinburgh.  Catherine was their first child, and the other children were:
Robert Hogarth (1816-?)
Mary Hogarth (1819-1837).  She lived with Charles and Catherine in the early years of their marriage until her early death.
George Thomson Hogarth (1821-?)
William Thomson Hogarth (1823-?)
Georgina Hogarth (1827-1917) Became Charles Dickens' housekeeper.  Later published the letters of Charles Dickens.
George HOGARTH senior was the son of Robert HOGARTH and Mary SCOTT, and according to my own searches he had several siblings all born in Channelkirk: Robert (1785), John (1786), Mellicent (1788), Christian (1790), Mary (1791), Jane (1792) and Mary (1794).  These details need confirming.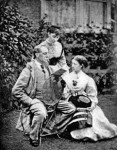 It is not surprising that many of Charles Dickens' descendants are theatrical.  He was a great lover of the theatre and produced and performed in several plays himself.  He was a great character – but hampered all his life by the financial problems of his father and several of his siblings.  His marriage was not a happy one, and he had at least one mistress – the actress Ellen Ternan.  He seems to have had good relationships with his daughters, two of whom can be seen in this picture.
He is first on my fantasy dinner party list.  I think he probably was great fun to have at parties – especially in his younger days.  My own historical fiction writing is often influenced by his style and he tends to pop up now and then as a kind of guest character!  Next year will be the 200th anniversary of his birth – cause for much celebration!
More information on Charles Dickens' genealogy can be seen at MyHeritage.com.  I would like to hear from anyone who has Charles Dickens in their family tree, or would like any help in finding a connection.
Recommended Books:
Peter Ackroyd's Dickens
Charles Dickens: A Life
The Complete Works of Charles Dickens (Annotated)
More Charles Dickens books