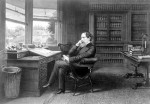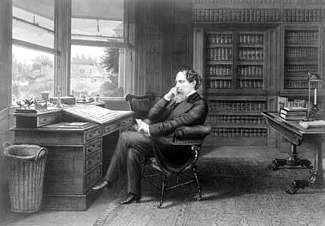 Forgive me for adding to the general melee of Dickensian stuff that's going on at the moment, but being a huge Dickens fan I have to celebrate the man's 200th birthday which takes place on 7th February.  I have already written a blog about his family tree and ancestral connections (Charles Dickens' Genealogy: Are You Connected?) so I am not going to go into his family in this post.  However, if you have 19th century UK ancestors – and particularly if they lived in London – then you really should read some Dickens to get feel for life in the Victorian era.  And many of your ancestors would have read Dickens' novels as they came out in weekly installments in his paper, Household Words. Some Charles Dickens facts to come – but first, a description of London by the man himself.
This is from the 1st chapter of Bleak House, and wonderful setting in which to visualize your London ancestors:
LONDON.  Michaelmas Term lately over, and the Lord Chancellor sitting in Lincoln's Inn Hall.  Implacable November weather.  As much mud in the streets, as if the waters had but newly retired from the face of the earth, and it would not be wonderful to meet a Megalosaurus, forty feet long or so, waddling like an elephantine lizard up Holborn Hill.  Smoke lowering down from chimney-pots, making a soft, black drizzle, with flakes of soot in it as big as full-grown snowflakes – gone into mourning, one might imagine, for the death of the sun.  Dogs, undistinguishable in mire.  Horses, scarcely better; splashed to their very blinkers.  Foot passengers, jostling one another's umbrellas, in a general infection of ill-temper, and losing their foothold at street corners, where tens of thousands of other foot passengers have been slipping and sliding since the day broke (if the day ever broke), adding new deposits to the crust upon crust of mud, sticking at those points tenaciously to the pavement, and accumulating at compound interest.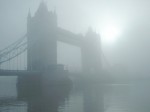 Fog everywhere.  Fog up the river, where it flows among green aits and meadows; fog down the river, where it rolls defiled among the tiers of shipping, and the waterside pollutions of a great (and dirty) city.  Fog on the Essex marshes, fog on the Kentish heights.  Fog creeping into the cabooses of collier-brigs; fog lying out on the yards, and hovering in the rigging of great ships; fog drooping on the gunwales of barges and small boats.  Fog in the eyes and throats of ancient Greenwich pensioners, wheezing by the firesides of their wards; fog in the stem and bowl of the afternoon pipe of the wrathful skipper, down in his close cabin; fog cruelly pinching the toes and fingers of his shivering little 'prentice boy on deck.  Chance people on the bridges peeping over the parapets into a nether sky of fog, with fog all around them, as if they were up in a balloon, and hanging in the misty clouds.
I love the way the word 'fog' is repeated over and over again, to make the reader feel it creeping in on him in a claustrophobic way – and it is a marvellously symbolic opening to this particular story, about the 'foggy', over-complicated and incomprehensible dealings of the law in the Court of Chancery.
But enough of the literature lesson!  Here are a few facts about Charles Dickens that you may or may not know:
He was christened Charles John Huffam Dickens, the son of John and Elizabeth, at 1 Mile End Terrace, Landport, Portsmouth.
His first published story was entitled A Dinner at Poplar Walk (later re-named Mr. Minns and His Cousin), and you can read a copy of it HERE.
When Charles Dickens was 12 his father was sent to debtors' prison, and Charles was sent to work in a blacking factory – an episode of his life that had a profound effect on him.  His experience of visiting debtors' prison was famously re-created in Little Dorrit.
David Copperfield was Dickens' most autobiographical work, and also the author's favourite.
Dicken's novels were published in monthly instalments, and many, such as The Old Curiosity Shop, were as eagerly awaited as today's audience have waited for the next Harry Potter.  'Is Little Nell dead?' was probably as much on everyone's lips then as 'Who Shot JR? in the 80s!
Dickens loved the theatre and was involved in the production of many plays, both professional and amateur.  There is a wonderful few chapters in Nicholas Nickleby when Nicholas and Smike join a travelling theatre company, which totally expresses Dickens' love and knowledge of the theatre world.
Despite having 10 children, Dickens' marriage was Catherine Hogarth was not ultimately a happy one, and they were separated in 1858.  Charles had been having an affair with a young actress, Ellen Ternan, and this relationship continued privately until his death.
Dickens and Ellen Ternan were passengers on the train that crashed in the famous Staplehurst rail crash in 1865.  Ten passengers were killed in the crash, and Dickens became somewhat of a hero after his efforts to help the injured and dying.  He was nervous about rail travel for the rest of his life.  He died five years later on the exact same date as the crash.
He died on 9th June 1870 of a stroke.  He was in the middle of writing the thriller, The Mystery of Edwin Drood and the last word he ever wrote was "appetite".  A rather fitting final word for a man who lived with such energy and love of life.
I could go on with many more interesting facts – his nightly walks around London, his visit to America etc, but this would end up being a very long post.
Whatever you may think about his personal life (and let's face it, none of us are perfect), any writer should be inspired by Dickens because he brought many social issues to the public consciousness and had a direct influence on the improvement of schools and was certainly one of the many 'voices' who helped to change the lot of the poorer classes.  Furthermore, he has informed our understanding of the Victorian world, and the word, 'Dickensian' is part of our vocabulary.
I will just end by saying that despite the rather dismal way he treated his wife (the psychology of his relationships with women has been much debated), he is still top of my fantasy dinner party list.  I think that he probably made any party fun and interesting – and hopefully would get on with my other guests – Jane Austen, Katharine Hepburn, Mahatma Ghandi, Stevie Wonder and William Shakespeare (though I'm not sure Katy Hepburn would be his kind of woman!).
Happy Birthday Charles!  I will be raising a glass to you on the 7th.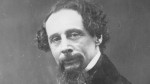 More Charles Dickens facts and information can be seen at these websites:
David Perdue's Charles Dickens Page
Charles Dickens Birthplace Museum
Dickensian London: